Maps and trails for bikes and walks
On the fringe of the Cairngorm National Park, the area offers something for walkers and cyclists of all abilities and ambitions.
Easy walks around Tarland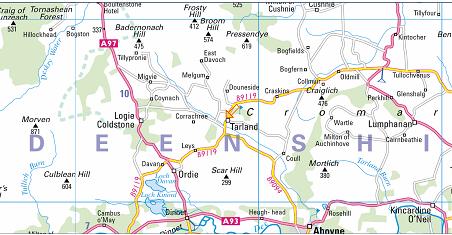 There are many good walks and trails in and around Tarland. A booklet called "Tarland - a great place to walk" is available from The Spar Paper Shop in the Square.
The Tarland Way is a cycle route to Aboyne, sharing the road up to Coull then following well laid and signposted tracks to Aboyne.
CLICK HERE to see walks in the Tarland area.
CLICK HERE to find out more about the Tarland Way.
Walks centred on Braemar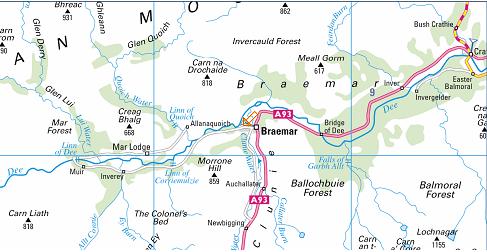 Braemar features regularly on UK weather forecasts as one of the coldest places in Britain, being one of Scotland's highest villages. It is the southern approach to the Cairngorm range, with extensive pine woods, and many scenic glens and lochs. The Dee tumbles through the Linn of Dee and passes teastwards through Braemar. The Cairnwell Pass climbs south, covered in snow for several months of the year.
CLICK HERE to see walks in the Braemar area.
Walks centred on Ballater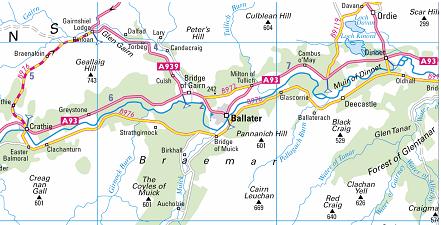 Ballater lies in the middle reaches of Deeside. The high mountains of the Cairngorms are a backdrop to the foothills covered in heather and Scots pine. The River Dee passes Balmoral Castle on its way to Ballater then east to Dinnet and Aboyne.
Ballater is an attractive village, where Queen Victoria disembarked from the Royal train on her way to Balmoral. The Deeside Line disappeared in the 1960s cull, but the track between Aboyne and Ballater is an easy trail, popular with walkers and cyclists.
CLICK HERE to see walks in the Ballater area.
Muir of Dinnet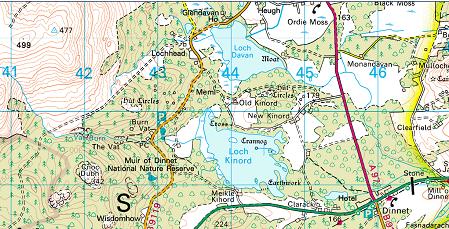 Muir Of Dinnet National Nature Reserve consists of birchwood, wetlands and heather moor. It includes the Burn o' Vat, a giant pothole carved by a huge melt water stream during the last Ice Age. Wildlife abounds, with birdlife especially active in winter and spring. A choice of marked trails caters for all abilities of walkers, round the lochs and through the moor.
The visitor centre at Burn O' Vat is open throughout the year and has a large car park with picnic tables. The Vat is stunning at any time of year.
CLICK HERE to see walks around Muir Of Dinnet National Nature Reserve.
Other walks and trails
There are several websites with walks and trails throughout this area, such as The Deeside Walks website